Parentapps is your central hub for parental engagement and helping school staff save time.
Parentapps is your central hub for family engagement and helping school staff save time. The Parentapps Connect
School App
is an accessible, versatile tool with many features to ensure families can keep on top of their child's education. Parentapps also provides
school website design
services to bring your school to life.
Help families keep track of your weekly events, school closures,
exams
and meetings through the academic calendar.
Send parents and guardians individual messages or create groups. Choose
whether or not
to give them the option to reply to the message.
Allow families to access, view and edit students' data. Student profiles include all sorts of important information, from the school year to dietary requirements and weekly schedules.
The perfect feature for busy parents. Let them access the latest announcements and news on the go!
Browse through the table of contents to provide relevant information for families. 
This shortcut will lead families directly to your school website
This is the perfect feature to use to make families aware of any announcements,
news
and events. When you release new information, you can send a push notification to parents and guardians' devices.
Your personalized school app will be branded into your school's color scheme.
Working with over 1,200
schools worldwide.
Strengthen relationships Between School and Home.
Foster Transparency between school staff and families with swift push notifications, ensuring timely updates on all school matters. Families can access forms, letters, term dates, and more on the go.
A complete solution.
You'll be able to communicate instantly, and families can access everything they could ever need, such as reports, forms, letters, events, and term dates on the go.
Unlimited messages.
Instantly reach out to families by sending out messages to parents individually or to entire groups in seconds. Alternatively, use free push notifications.
Client satisfaction guaranteed
Would Recommend Parentapps
Find the support team to be helpful
App provides amazing value for money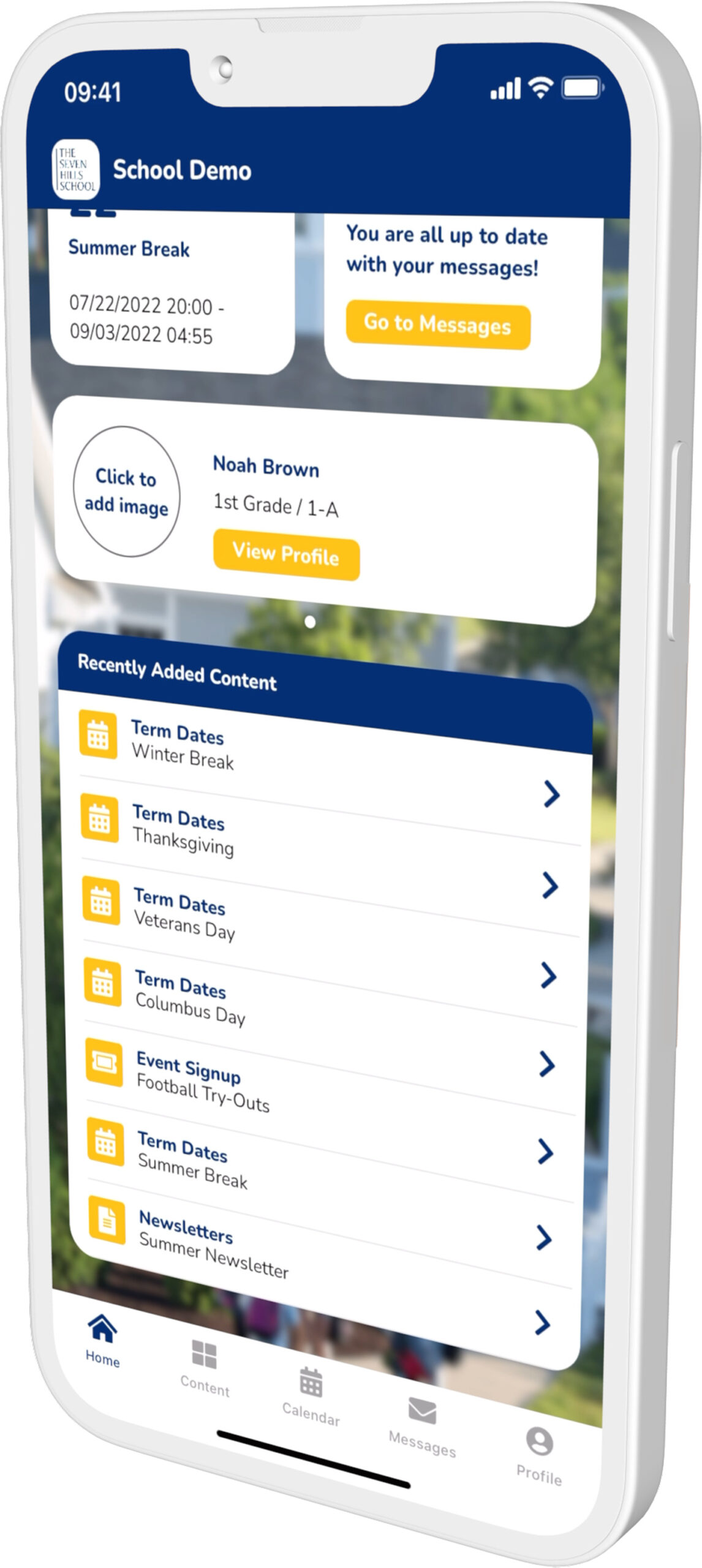 Save time and money
The feature-rich service reduces faculty workload and boosts school budgets by lowering printing and mailing costs and increasing ease and efficiency in communication with parents and guardians.
Making communication secure
Anything that you share with families is sent safely and securely. Only invited parents and guardians will be able to access the platform or app.
Let go of paper
You can forget about all the time and money it took to print consent forms and letters. By using our payments system, you will be able to reduce budget spent on paper and apply it to other school initiatives.
Increased engagement with families
Relationships between school staff and families improve significantly as parents and guardians are quickly and easily notified of anything regarding your school.
Instant download
The Parentapps Connect App is super versatile! Families can easily download it on smartphones and tablets in a matter of seconds from either the Google Play Store or App Store.
All information in families' hands
There's no longer a need to call the school to request information on dates, times, or booking clubs and activities. Parents and guardians can also report absences and update personal information directly and securely via the app.
Direct contact with teachers
Families can easily and securely communicate with teachers and staff directly, which keeps them involved and up-to-date on their children's educational progress.
Instant Communication
Some announcements can be sent as push notifications on the app. This feature will keep parents updated with urgent information, such as for school closures, emergencies etc. Think of it as a virtual real-time school newsletter!
Personalized and professional
Bring your school alive online.
Personalized school website.
Your website is the first impression your visitors will have of your elementary, middle, high, or catholic school. Make an impact!
360° engagement.
Your school website is the perfect way to promote your events and announcements for the school community to interact with.
Marketing your school.
Your school website is an effective marketing tool to promote learning resources, events and extracurricular activities to your school community.
The benefits of having
a Parentapps website.
Effective engagement with your school community starts with an impressive school website. Our Community Brands team is made up of experts in all areas: trust our expertise and you'll receive the perfect website for your school.
Search Engine Optimised
Our SEO experts collaborate in building your website to make it easy to be found via internet search engines to ensure your prospective students are driven to your site.
Holding your Hand
Even after you've launched your new school website, our team are always here to support you and hold your hand throughout your journey.
Fully responsive design
Thanks to our tech knowledge, our websites are fully responsive on all smartphone and tablet devices.
Easy to use and update
We know how hard it can be to update a website, that's why our super cool content management platform makes it as easy as possible for you and your school staff.
Deployment Process
Our team works with you every step of the way to ensure your website is everything you've dreamed of, and we do the heavy lifting for you.
Fun and Interactive Design
Our design team are super creative and strives to personalize your website to make it original and fun to browse through.
Don't just take our word for it,
Read through what our customers
are saying about Parentapps.
It really has changed the way we communicate with our community. It's streamlined processes, it has enabled staff to really quickly send out messages, communicate and reach a wider audience.
It's honestly the best thing we've done. It's efficient, it saves such a lot of time and it's one central place again which for me is the most important thing.
Printing out 400 letters and distributing them around the school was time-consuming. With the app, you know the messages you send out will be seen by parents.
We have had people ring up and comment on its design and our parents and children love the video and photographs.
It's massively reduced costs through paper letters but also having term dates and links to the website, makes the information far more accessible and that's reduced the number of things parents call in for.
It's immediate. We can hit many many parents, really quickly. It's just revolutionized school. That's all I can say, it's just fantastic. I really really love it.
Would you like
to know more?
get in touch today.